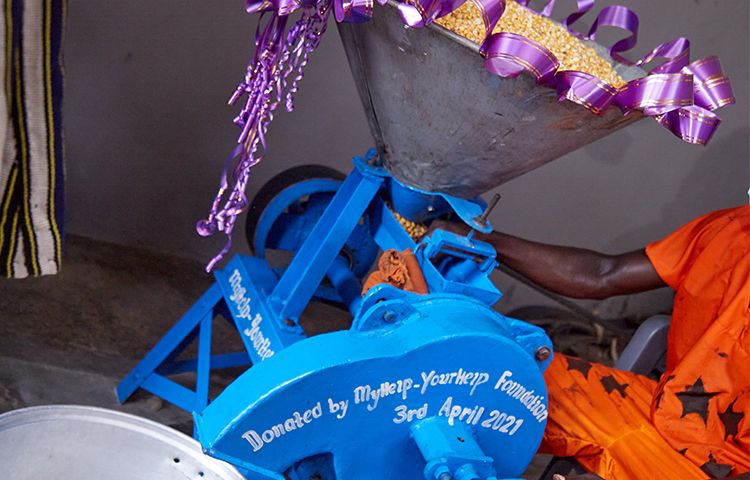 Osamkrom Prison's Outreach
In line with its 3rd Anniversary celebration, Myhelp-Yourhelp Foundation paid a visit to the Osamkrom Camp Prison on the 3rd of April 2021.

This was supported by some companies and individuals including the Cocoa clinic, Jodi Construction, Rockzwaakye, Richman Identity, Asante Farms, Delma Foods, D&D Catering, Cake Haven Gh, Randa Cakes and More, Mr. Opare of Labianca and Bishop Dag Heward-Mills
Under the theme "Behind Bars but not Bound", the day was marked with a number of activities that were geared towards encouraging and giving hope to the inmates. Some of the activities were "a time of praise and adoration" led by Minister Benjamin Debrah and Madam Berlinda Asante, an exhortation on the topic of "Hope" with scripture references from Romans 15:12 and John 3:16 delivered by Prophet Joseph Gabriel Obeng. An altar call saw about 27 of the inmates make a commitment to surrender their lives to the Lord Jesus Christ.
Some words of encouragement were given by Mr. Reginald Yaw Asante Osei (CEO of Rockzwaakye) who is also a hip life legend popularly known as Reggie Rockstone together with his wife Dr. Zilla Limann of the Limann Foundation. Furthermore, Mr. Ray Yorke Dadzie, Minister Benjamin Debrah and Abena Asante Asare (all members of the Foundation) gave words of encouragement to the inmates.
Items Donated:
Corn Mill
Boxes of assorted drugs
Food items (bags of gari, beans, Rice, sugar, milk, boxes of Indomie, liters of oil etc)
Pieces of branded face mask
Fully furnished hand washing facilities (Veronica buckets, paper towels,bottles of liquid soap, basins for wastewater, trash baskets, washing powder)
Cartons of water
Soft drinks
Groceries
Farm tools and protective wear (wellington boots, hoes, cutlasses
Gospel tracts, Bibles and Books by Bishop Dag Heward Mills