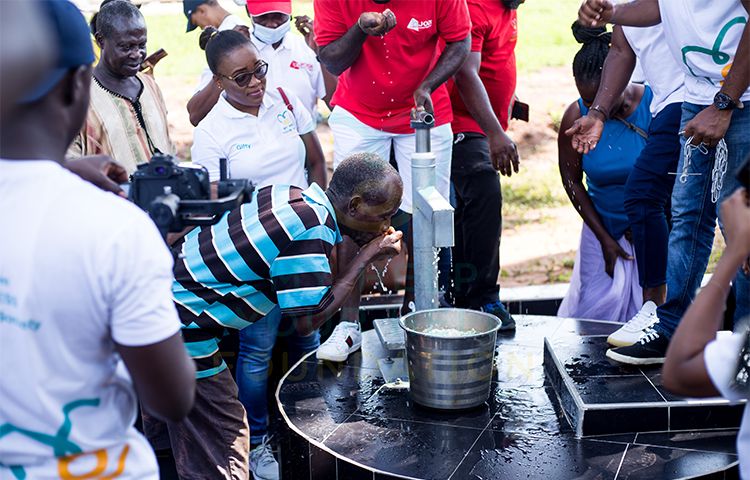 Disadvantaged communities rescued
Takyikrom is a small farming community in the Akuapem South District. The main activity here is farming. The village has a population of about 1,000. In terms of gender settlement, more than 70% of the population are women. The adults appear to be mostly 45 years and above and children under 15 years of age.
The community lacks potable water and resorts to fetching water from streams along their farmlands.
An uncompleted and deteriorated chapel served as a classroom to lower primary pupils. The population of school-going age in the town is about 300. The school is manned by 5 teachers. The crowded nature of classrooms coupled with the lack of learning materials also discouraged pupils from attending school.
MyHelp-YourHelp Foundation in line with its objective of helping and providing quality education and clean water in deprived communities synchronized with the United Nation's Sustainable Development Goals (SDGs) consented to construct a 2-Unit Classroom Block to provide a conducive learning environment for the pupils and partner with Jodi Construction Company Ltd to renovate the dysfunctional borehole.
Items Donated:
1. Construction of a borehole to supply potable water for the community and its surrounding villages.
2. Construction of a 2-unit classroom block.
3. Stationery such as note 3 exercise books, pens, pencils, erasers, and other learning materials.
4. Bibles and Gospel tracts to help in their spiritual upliftment.
5. Veronica buckets for the school and distribution of washable face masks.
6. Sanitary pads from Faytex Ghana to the women and adolescent girls in the community.
Other Activities Undertaken:
1. Preaching of the Gospel to win souls for Christ and uplift the spirit of believers.
2. Education on menstrual hygiene among women by a representative from Faytex.
3. Education on regular hand washing in the midst of the COVID-19 pandemic.
4. Feeding the community through the distribution of assorted cooked food.
5. Face painting and Christmas card making by the children.
6. Dance competition among the kids to make the day a memorable one.
Feedback
The Human Resource Manager, Mr. Isaac Nti, and the Health and Safety Manager Mr. William Norvidzro of Jodi
Construction Ltd who dedicated the Renovated Borehole expressed their joy in helping give the communities
potable water and pledged their commitment to partnering with the Foundation to do more for other communities in
the future.
Pastor Martin Acolatse who doubled as the Headmaster of the school and the "Odikro" of the community, Nana Oparegyan, openly expressed their joy and appreciation to the Foundation for such a remarkable gesture.