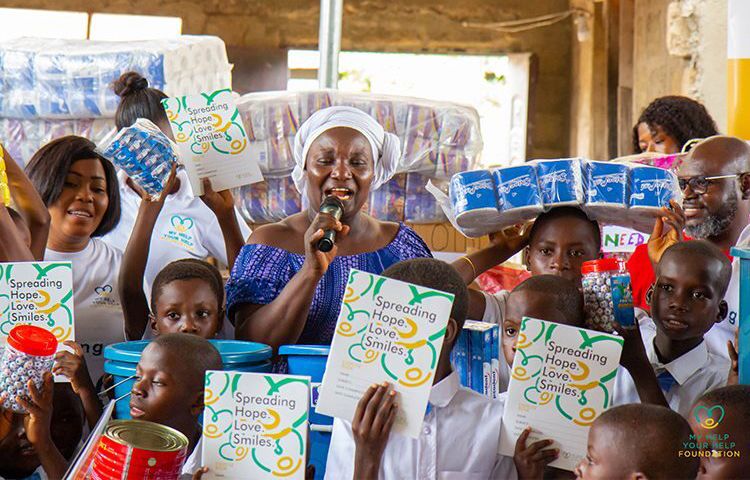 Easter Compassion with Graceland Needy Home
It was an atmosphere of great joy, dancing, and merrymaking for the children and caretakers of the Graceland Needy Childcare Shelter upon the arrival of the bus that transported the members of the "Myhelp-Yourhelp Foundation".
The Christian Non-Profit Organization (NPO) gives to the needy all year round but saw the occasion of Easter as befitting of showing love to the Childcare Centre. The foundation feted the children to sumptuous meals and good music. Their joy in receiving seemed unmatched and could be likened to the joy one feels upon the realization of the significance of the death and resurrection of Jesus Christ, the giving of His very self to mankind many years ago, for which reason Christians commemorate Easter. The children did not only receive, but they gave also and displayed fascinating displays of talents such as cadet drills, choreography, and Bible and poetry recitals among others.
According to Mr. Jeff Kwashie, the project coordinator of the Myhelp-Yourhelp foundation,
"They raised the issues of a tank to store water, school uniforms, furniture, stationeries and foodstuffs. They also sought for roofing sheets to complete the rest of the dormitories. We feel these are children who either have no parents or have been left on the streets to face the world on their own with their feeble hands. They are helpless and very vulnerable."
The donation on Easter Saturday, April 16 2022 was led by the founder of the foundation, Mr. Nicholas Cofie. He stated that the exercise forms part of their Corporate Social Responsibility.
Items Donated Include:
Five (5) bags of rice (25kg per bag)
Four (4) bags of gari
Four (4) bags of corn dough
Two (2) bags of cassava dough
Two (2) bags of beans
One (1) bag of sugar
Two (2) gallons of cooking oil (25 litres per gallon)
Five (5) boxes of tinned fish (mackerel)
Five (5) boxes of spaghetti
Three (3) cartons of milk
Twenty-four (24) packs of bottled water
Nineteen (19) packs of soft drinks
Thirty (30) plastic buckets  
One (1) veronica bucket
Five (5) boxes of toothpaste (2 boxes of pepsodent & 3 boxes of close-up)
Two (2) boxes of Lifebuoy soap
Four hundred and fifty (450) pieces of toilet-roll
One (1) box of clothes for babies
One (1) box of clothes for children
One (1) box of clothes for teenagers
Four (4) boxes of clothes for adults
Two (2) boxes of shoes for adults
Forty (40) new school uniforms
A cash donation of GHS 1,000.00 to sew additional uniforms
Stationery

Four hundred (400) branded My Help-Your Help foundation exercise books
Four (4) boxes of pens
Five (5) boxes of pencils
Two (2) boxes of erasers
Five (5) boxes and two (2) packs of colour pencils
Thirty (30) boxes of chalk
Two (2) boxes of sharpeners
Five (5) boxes of long rulers
Forty (40) sheets of cardboard
Five (5) sets of poster colours
Five (5) sets of paintbrushes
One (1) pictorial teaching aid
In an interview, Miss. Sonia Oblitey (Director of MyHelp-YourHelp and brand Ambassador of the USA branch) iterated that it is a pity to see such talented children living under unwholesome conditions. She made an appeal to all benevolent individuals and institutions to support the work of the foundation so that they could reach out to many more vulnerable children in the country.
The founder of the foundation, Mr. Nicholas Cofie, said the foundation believes in spreading love, hope and smiles. For him, the Foundation was conceived and built on the teachings of Christian doctrines, hence their strong belief in seeing to the well-being of the underprivileged in society.
He said the Foundation occasionally visits orphanages, prison establishments, rehabilitation centers, special schools, deprived communities, etc. to impact the lives of the persons there.
Graceland Needy Childcare Centre:
The founder of Graceland Needy Childcare Shelter, Madam Grace Wobell, also referred to as Mama Grace hails from Elmina in the Central Region of Ghana. She worked as a caterer/dietician at the 37 Military Hospital and was also a member of the Child Evangelical Fellowship (CEF) before being called by God into full-time ministry as a Prophetess. Being an orphan herself, she decided to help children who find themselves in similar circumstances. This she does with the support of her husband, Pastor Isaac Afriyie.
 She claimed the word orphanage carried a curse, and made the children feel unwanted, as such, she preferred the place be called a Needy Childcare Shelter instead of an orphanage.
 In an interview with Mama Grace, Graceland started off as a prayer camp for six (6) years and transitioned into an orphanage home in 2017 with only three (3) kids. Currently, with two completed dormitories and three yet to be habitable, the orphanage now houses one hundred (100) kids ranging between the ages of 1 and 17 years. It also has a staff strength of 10; five (5) teaching staff and five (5) non-teaching staff. They have plans of expansion but that will depend on support from philanthropists and organizations like the Myhelp-Yourhelp Foundation. She lamented that the longest-serving staff at the orphanage takes GHS 150.00 as monthly salary and the rest of the staff either receive GHS 100.00 or GHS 70.00 monthly. The low remuneration for staff is because of the home's lack of the financial strength to provide good compensation.
Some of the children; Samuel Arthur, Ebenezer Abam, and Scholastica Naa Yeye Tetteh were interviewed. Scholastica was brought into the home with a bizarre illness but has apparently recovered and is doing very well. She aims to become a lawyer in the future.
These 3 are candidates for the 2022 batch of BECE and the pioneers of the home. They revealed that they sometimes trek to the market to get access to basic resources, a situation they said is heightening their woes. "We don't have rice, we don't even have gari, so we have been going to buy gari at the market. Our food is finished. And we are not having anything," they lamented. They were so thankful that foodstuffs had been donated to them at such a timely moment.
Madam Grace thanked God for His divine grace and providence. She however appealed for scholarships for these children to be able to continue their education to the highest attainable degree and the cadet corps of the centre appealed for support for accoutrements for the children to boost their morale. Madam Grace humbly requested extra support from churches, compassionate donors, and government agencies to help with food, shelter, clothing, furniture, etc.
In his closing remarks, Mr. Nicholas Cofie, on behalf of the entire leadership of the foundation, expressed his gratitude to the entire team for their dedication to showing love to the deprived and less privileged in society. He thanked the team for sacrificing their time and finances. He also appreciated all who earnestly prayed for the success of the program.
 He said the Foundation is unable to execute as many projects as they would have wanted to. This is because the main source of funding for the foundation is the contributions of its members. But he believed that, as stated by Hudson Taylor, — "God's work done in God's way will never lack God's supply". He further applauded the following sponsors: Randa Cakes and More, and all others who supported this mission in cash or kind.
Media Houses: Adom TV, Joy News, Daily Graphic