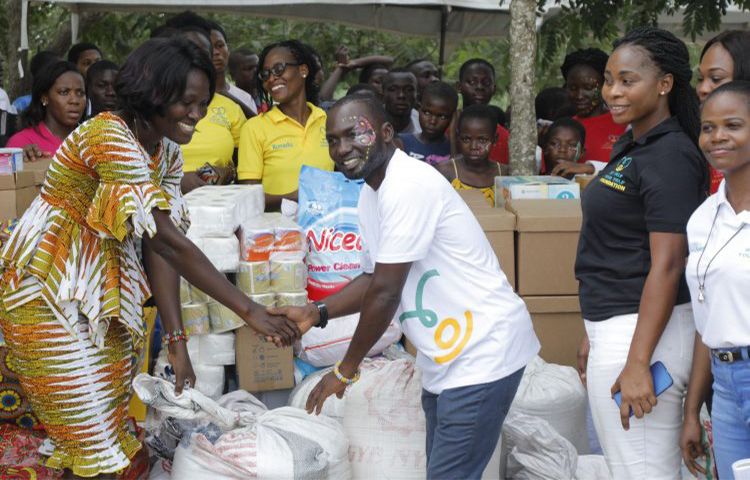 Donation and Love Feast at Royal Seed Home – Bawjiase
Royal Seed Home located at Bawjiase, a suburb of Kasoa in the Central Region has also benefited from our (MyHelp-YourHelp Foundation) support worth several thousands of cedis. The Orphanage according to the owner, Mrs. Naomi Amoah started in 1997 with only four (4) children but now caters for about 300 children.
Items Donated:
1. Donation of food items (bags of maize, rice, beans, gari, sugar, etc), confectioneries, baby foods, diapers, and toiletries.
2. Brand new clothes and shoes from USA and UK as well as used clothing.
3. Cash to cater for school fees and the general upkeep of the kids.
Fun Activities:
1. Music and dancing competitions, face painting, cadet drills, and talent displays among the children to make the day a memorable one.
2. Feeding over 250 kids and matrons with a lunch buffet of assorted dishes and drinks from Coca-Cola Ghana Limited.
3. Interaction with the children by team members where children were encouraged and counseled to dream big and study hard to become great people in society.
Feedback
The Founder of the Royal Seed Home, Mrs. Naomi Amoah who in 2018 won the MTN Heroes of Change Diadem, expressed gratitude to Myhelp-Yourhelp Foundation for the thoughtful gesture. She explained how she began the home with only 4 children but now caters to about 300 children. She said from humble beginnings, many inmates of the home have risen to be nurses, and teachers and many more are in various universities in the country.
Mr. Nicholas Cofie, the President and Founder of the Foundation explained that the Foundation was established purposely to assist orphans and other vulnerable children in society, explaining that growing up as an orphan himself motivated him to establish the Foundation to assist others.